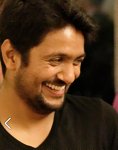 Akash Srivastava
I'm a PhD student in the Informatics Forum, University of Edinburgh. I work with Dr Charles Sutton and Dr Michael U. Gutmann on variational inference for generative models using deep learning.
---
News:
Our paper, Vadam: Fast and Scalable Variational Inference by Perturbing Adam got accepted at ICML, 2018.
I will be at the RIKEN Center for Advanced Intelligence Project, Japan during most of Feburary as a visiting researcher.
---